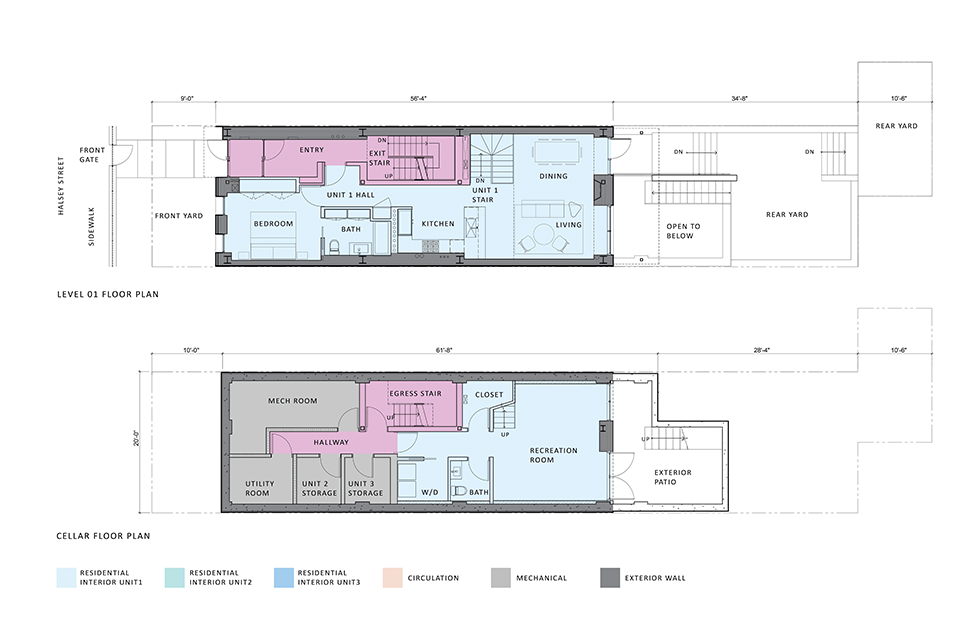 3 FAMILY TOWNHOUSE development
This design is for the new construction of a 4400 square foot three unit townhouse on a mid-block infill site in Brooklyn New York. The building site is currently an empty lot once occupied by a brownstone that was demolished in the 1960s and left empty. Located in a historic district between two 1890's townhouses, the design seeks to re-complete the block and respond to the context of neo-grec style townhouses that form the character of the district. Through a palette of natural red clay brick, terracotta and blackened steel, the project provides a modern interpretation of the traditional brick townhouse while respecting the material character of the block.
Each of the 3 units of the townhouse are designed to capture the appealing characteristics of Brooklyn townhouse living including full floor layouts, indoor/outdoor connections and high ceilings. All of the Units are designed as Duplex units with open loft like layouts that combine living, dining and kitchen into open flexible spaces with south facing exposures. The ground floor unit has direct rear yard access, the second unit has a double height living space and outdoor patio, and the top unit has access to a rear patio as well as roof decks.